Meet the new star of EWES, Jesper
We usually say that there is always a WE in EWES. Now, we have added one more fantastic colleague to the team. Get to know machine tool operator Jesper Ingelsbo.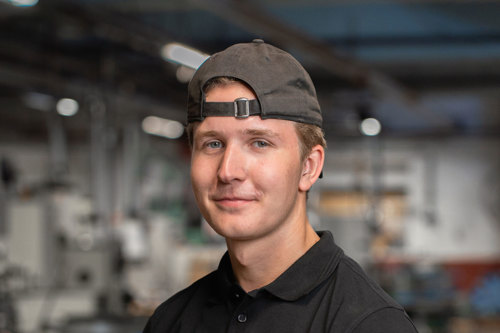 Jesper Ingelsbo, newly employed machine tool operator 2022
What is your task?
I'm a machine tool operator.
Why did you apply for the position?
I looked for a job after graduation and was told by Anders Cederquist, one of the co-owners, that there was a job for me.
What did you do before coming to EWES?
I studied to become an electrician at Finnvedens Gymnasium (high school).
6 quick questions
How old are you?
19 years.

Where do you live?
I live in Bredaryd.

What do you like to do when you're not working?
Play soccer, hanging out with friends and party.

What do you find hard to resist?
A cold glass of Coke after a hard workout.
If you didn't have to work for money – what would you do in life?
Travel and discover the world.
When was the last time you laughed out loud?
Long story, but it was in a hotel room after a student trip we went on 😊